Built community infrastructure
A site for the built infrastructure has been prepared and serviced in the space between Culbokie Green and the affordable housing. The first phase of the development will comprise:
A community café with indoor and outdoor seating areas. The café will double as a meeting space and events venue. This will be a partnership venture where the day to day running of the café will be leased to a café manager (maybe another charity or an individual) and the building will be available for a programme of community activities and general community use at other times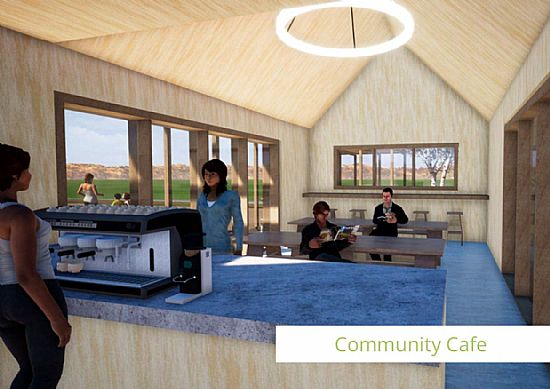 A 'potting shed' which will be a cosy base for volunteers helping to care for the Green and a place to store tools and equipment

Public toilets that will be available for use by cafe customers. At other times the toilets will be accessed via a slot machine

A covered walkway linking the café and toilets and a central courtyard with seating and landscaping

Covered cycle parking that is easily accessible and close to the facilities

A car park with disabled parking and a rapid EV charger. An overflow car park, when not in use, will be suitable for games or events.
Completion of the first phase will provide a core facility for a possible second phase of development for which provision has been made on the site. This is likely to focus on business use such as business rentals, hot desking and digital facilities and a health room. A community and stakeholder consultation about this phase was competed in late 2022. Summary of result.